Active Wellness: Hiking, Caving and Biking in Luxury
There are some things we can be sure of when guests arrive here at FLOCKHILL. We know you'll be totally enamoured by the landscape, often content to sit and drink in the incredible views, relaxing into out refined wilderness.

Some see our landscape as an exciting playground, full of wonder and opportunity. Their eyes are drawn to all the peaks, rocks, valleys, waterways and plateaus that could be climbed, walked or cycled. Keen to gain a different perspective, guests are eager to immerse themselves truly and experience the property from very possible angle.
And unlike New Zealand's most famous natural wonders, our guests can explore the beauty and wonder of FLOCKHILL without another soul in sight.
Hiking in the High Country
The views on FLOCKHILL's hiking trails rival those of New Zealand's 'Great Walks'; only you'll be hiking paths far less travelled—at least in this modern day. Hiking at FLOCKHILL is an exclusive experience only available to our guests. It gives you a greater appreciation of the scale, history and natural diversity of the property, while physically connecting you to the land that you'll never forget.
Hiking at FLOCKHILL is an activity you can do on your own, with your travel companions or with a FLOCKHILL guide. You don't need to be extraordinarily fit—you can select the routes best suited to you and explore the vast property at your own perfect pace.
Our two-hour waterfall trail is the perfect hike to one of our property's most tranquil spots. Beginning at FLOCKHILL lodge, the trail stretches from the base of Broken Hill, roaming through high-country bush. You'll encounter the prickly Matagouri—New Zealand's only thorny shrub—which displays delicate greenish-white flowers among its jagged thorns. After making your way up a steady incline and across a fan of shattered rock, punctuated with notable alpine plants, you'll reach the first of the Rata Waterfalls.
Another great hike is the one-hour journey to the stunning Lake Pearson, floating 603m above sea level on the edge of the FLOCKHILL Station. You'll walk between tussock wetlands and cross farm paddocks where you might spot some happy Merino sheep roaming around. A site of cultural significance, the lake was once an important source of kai (food) for early local Māori. On a calm day, take some refreshments and a rug with you and enjoy the sounds from the lakeside. Certain fish species thrive in the icy temperatures; you might see lake trout, brown trout and rainbow trout jumping or cruising through the crystal clear waters. Birdwatchers may spot the Southern Crested Grebe, which puts on a spectacular display of courtship worthy of a much bigger audience.
Cycle the Endless Green Pastures
E-biking is another enjoyable way to explore the FLOCKHILL environment. We'll take you for a journey around the property on our complimentary e-bikes, discovering the different flora and fauna and stopping wherever it suits you to take a closer look or capture the perfect photo.
If you've never tried e-biking, think regular biking but with some welcome extra assistance. Your e-bike will let you take breaks from pedalling, pushing you effortlessly across the smoother parts of our landscape, letting you bike for longer periods and reach far corners of the property more quickly.
Our e-bike tours mainly traverse the flatter land that makes up our Merino-Romney sheep station. The large blocks are home to thousands of sheep and hundreds of cattle who graze peacefully on the land, unaware of the truly remarkable vistas that surround them. An e-bike tour of the station will let you discover all that's special about the high-country and the lives of our wonderful shepherds.
Biking across FLOCKHILL is the perfect way to exercise with exhilaration and enjoyment in our high-country wilderness.


Explore Untouched Caves
Cave stream is an iconic part of the FLOCKHILL landscape; a rich tapestry of ancient geology, jaw-dropping beauty and deep history. The scenic reserve looks over the snow-topped Craigieburn and Torlesse Ranges, revealing a small but mesmerising stretch of New Zealand's famous Southern Alps.
A 15-minute drive from the Homestead, the diverse karst landscape is made up of water grooved rocks, sculptured rock formations and solution holes. True to its name, the cave itself encases a subterranean stream that weaves for 362 meters between its two entrances. Experienced cavers and careful novices will enjoy caving in the dark waters, making their way upstream over boulders and beneath waterfalls on the hour-long expedition. Keep a wary eye out for the Cave Harvestman, a harmless yet rare species of spider that must be protected at all costs for its survival.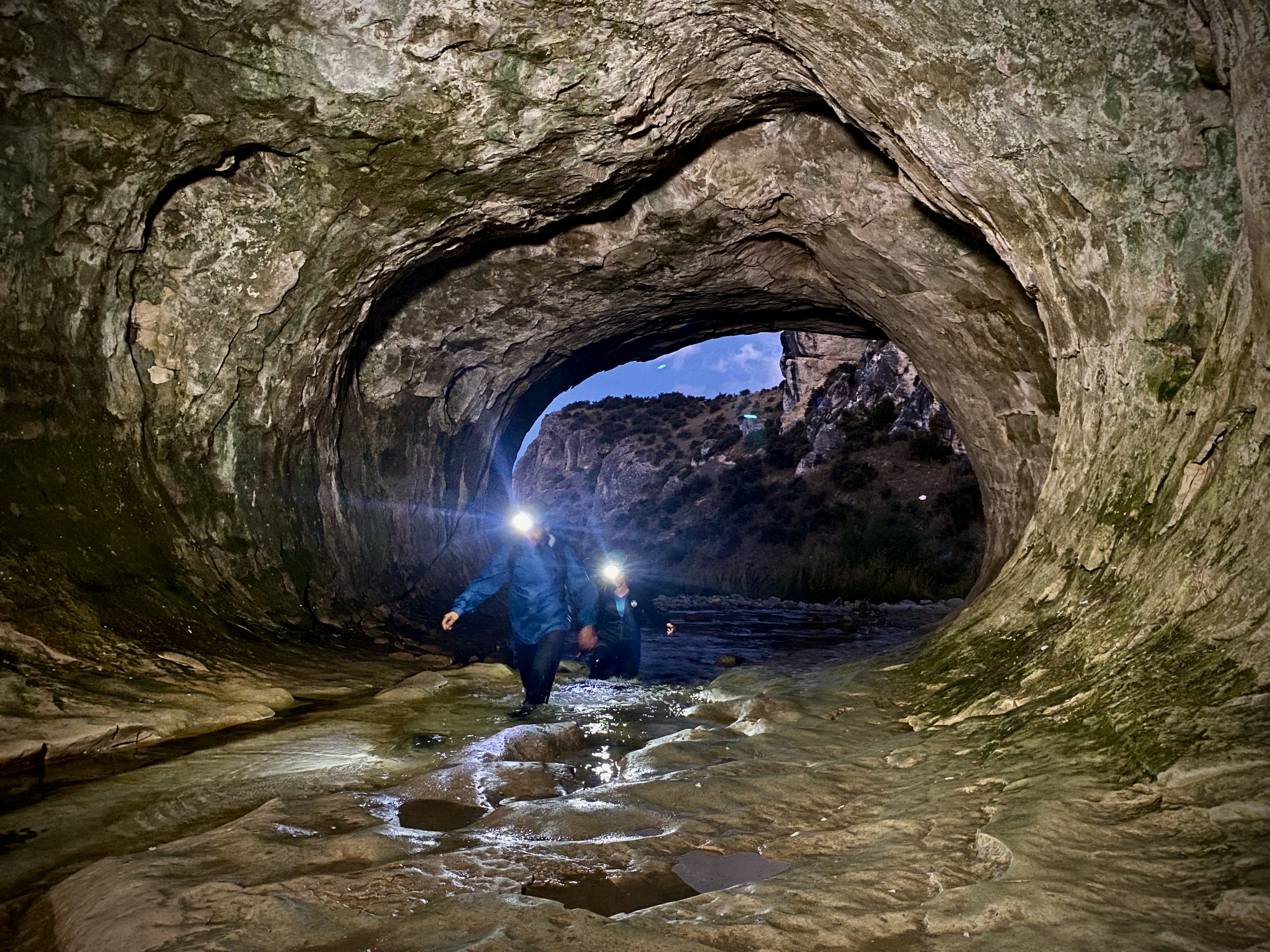 Private Guides

Our friendly private guides are available to tailor a hiking, biking or caving experience to suit you. Not only will you get to see some of FLOCKHILL's most fascinating natural wonders, but you'll have the opportunity to learn about our refined wilderness from some of the people who know it best.
We encourage you to enjoy all that the property has to offer. We only ask that you explore with the company of a guide and treat all living creatures and the natural environment with the respect that they deserve.
When out on the land, we always recommend sturdy footwear and an extra layer of clothing. The landscape is real, raw and as breathtaking as it gets.